Dynamical Systems & Modeling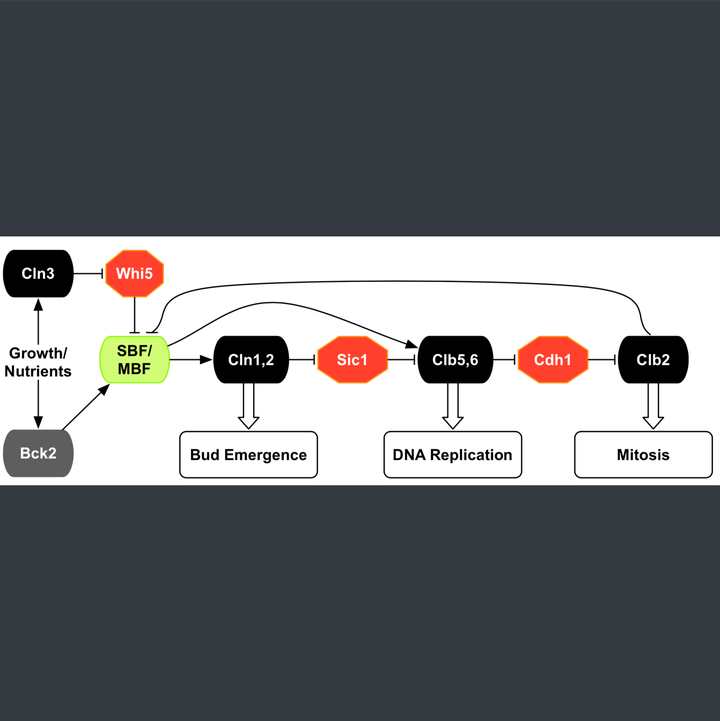 Research
During my graduate research with Dr John Tyson, I built mathematical models to understand dynamical aspects:
Modeling the START transition in the budding yeast cell cycle:

Built a detailed mathematical model (~100 ODEs, ~150 parameters) for the START transition in yeast and integrated it with our published model of the whole cell cycle.
Model addresses outstanding issues related to the precise mechanism and timing of transcriptional, post-translational and localization events, as well as size control under varying growth conditions.
Model consistent with ~200 experimental mutant phenotypes pertaining to the START transition and rest of the cell cycle.
Built a basic model for the nutritional effect of size control in budding yeast cells.
This mechanism has been incorporated into the existing model of the yeast cell cycle to explain an initial set of START mutants.

Modeling bistability in the canonical Wnt pathway:

Built a simplified model based upon the core module of the Wnt canonical pathway, and incorporated additional key regulatory interactions.
Model shows that the Wnt signaling pathway can display bistability, in agreement with preliminary experimental results.
Related publications
Ravi J#, Samart K, Zwolak JW, Tyson JJ#. Modeling the START transition in the budding yeast cell cycle. Model Submitted. #Co-corresponding authors.
Cantoria MJ*, Alizadeh E*, Ravi J, Bunnag N, Kettenbach N, Ahmed Y, Paek AL, Tyson JJ, Doubrovinski K#, Lee E#, Thorne CA#. Feedback in the β-catenin destruction complex imparts bistability and cellular memory. 2022 bioRxiv
Students
Collaborators
Virginia Tech
Vanderbilt University
Ethan Lee
Curtis Thorne (now at University of Arizona)